Contemporary Activist Artists: 3 Notable Examples
These "activist" artists challenge us to reconsider the role of art in shaping historical narratives.
What is an activist artist?
For the Impressionists, society often labeled artists as flâneurs, since these gentlemen strolled through nature looking for artistic inspiration. This question could also be answered with any of the numerous movements and their subsequent titles: Surrealists, Dadaists, Conceptualists, Abstract Expressionists, and all the other "-ists" out there. But what about the term "activist?"
Today, when discussing activism and art, we might immediately think of the ongoing environmental groups using famous paintings in their protests to bring awareness to climate change. Whether agreeable action or not, such stunts are what most people think of when "art" and "activism" collide. However, activism is defined as efforts used to promote and/or execute social change. Would that not mean there are various ways of being an activist? Ones that go further than marching in streets with signs or using museums as sites of protest? If someone uses their art simply to bring awareness to an issue, does that not also make them an activist as well?
Looking at the work of three contemporary artists, Titus Kaphar (1976-), Kirsten Stolle (1967-), and Tamás Ábel (1991-), we can see how they use art as an intervention to bring about social change. Whether it be broadly historical or specifically environmental, it is obvious their work is activist in nature, even if they do not meet the standard criteria that defines an activist.
Titus Kaphar
Kaphar, similar to other contemporary artists, is not confined to a single medium. As an American artist, he investigates the way society has recorded American history and continues to memorialize it through his art. Often starting with an iconic American painting, Kaphar employs techniques such as erasing, painting over, shredding, or even cutting out elements to probe deeper into the reality of American history. Given his commitment to uncovering the truth, it's fitting to consider Kaphar not just an artist, but also an activist.
Take, for example, his Billy Lee & Ona Judge Portraits in Tar (2016). As a pendant portrait, two figures are seated before us in typical American colonial fashion against an unassuming background of an overcast sky and deep blue sea. Rather than meet the faces of who we can assume are Lee and Judge, we see figures with bodies made entirely of tar. As portraits mean to show a likeness, Lee's and Judge's "portrait" seem contradictory. To explain why Kaphar would make this artistic choice, we first have to examine the lives of Lee and Judge.
William (Billy) Lee and Ona Judge were two enslaved persons owned by the Washington family at Mount Vernon. Lee was George Washington's valet, and Judge was Martha Washington's maid. Both eventually gained their freedom, although by different means. Washington freed Lee through his will immediately upon the former president's death while Judge self-liberated to New Hampshire. It was not until after Washington's death, three years later, that the family stopped trying to recapture Judge.
Since Lee and Judge were real people, why would Kaphar portray them using tar?
Historians are not sure what Lee and Judge looked like. Even though there are portraits of Washington and his family that also show an enslaved person, we cannot be certain these paintings are an accurate reflection of their likeness. If anything, the Lee depicted in John Trumbull's (1756-1843) George Washington and William Lee (1780) looks more like a caricature rather than a realistic portrait.
In contrast, Kaphar's use of tar serves as a compelling emphasis of Lee's and Judge's presence. The idea of Lee and Judge is shown through the tar to represent their often-overlooked existence in history. The use of tar further cements their place since the substance is known for being hard to remove. In doing so, Kaphar makes clear how we cannot and should not overlook the enslaved presence found in American history. Even more so, we cannot ignore the fact that the Founding Fathers also played a part.
Kirsten Stolle
Stolle is an American visual artist whose work explicitly shows her interest in activism. Specifically concerned with bringing awareness to environmental issues, Stolle's work incorporates large, text-based designs that command attention. Many of her designs include historical statements that she repurposes to uncover how corporations are actually at fault for environmental damage, yet take little to no responsibility for their deeds.
One such work is her Only You Can Prevent A Forest (2022). This vibrant neon green sign is hard to miss due to its size (seven feet long!), and unnatural green color. Using green makes sense since the slogan tells us Stolle is concerned with forests. Yet using that specific shade and adding an eerie green glow makes us think of radioactive substances seen in movies. Whether this is true or just a cinematic trope, Stolle's use of neon green hints at the harmful effects chemicals have on the environment.
Matching the color's striking oddness is the all-capital end statement, which emphasizes the "PREVENT A FOREST" part. Such a statement seems quite contradictory to Stolle's investment in the environment—that is the point. According to Stolle, the statement originated from the United States military during the Vietnam War (1955-1975). It seems it was an attempt at dark humor about the environmental impact of the United States' use of chemical warfare. In turn, it was the 1947 Smokey Bear slogan "Only YOU Can Prevent Forest Fires!" that inspired the military's statement. Stolle artfully engages with the military's derogatory use of the pro-environmental slogan by emphasizing the destructive nature of the military's campaign. Rather than their actions preventing forest fires, their actions prevent any forest from taking root.
In doing so, Stolle also takes the emphasis away from the viewer. We are no longer the center of attention as the potential agent of change that Smokey Bear would have us believe. Instead, individuality is lost because environmental change comes from collective action, not just from the few. In this way, we are seemingly just as complicit in preventing forests as any corporation.
Tamás Ábel
Ábel, a Hungarian visual artist based in Budapest, specializes in glasswork. He is deeply fascinated by the medium's capacity to manipulate light and color, altering our experience and interaction with it. Ábel explores themes such as tolerance, equality, and love, primarily through his use of colored glass. While his studio may be located in Budapest, the universal themes he explores resonate beyond geographical boundaries.
His performance piece Colour Therapy: Washington, D.C. + Budapest (2017) shows the artist holding his work 33" Rainbow (2017) in a way reminiscent of how activists hold signs in marches. This pane of rainbow glass allowed Ábel to reflect a flag-shaped rainbow onto the Washington Monument in D.C., and the Millennium Monument, found in Budapest. In doing so, Ábel took his work to the streets, reflecting the broadly known conception of an activist.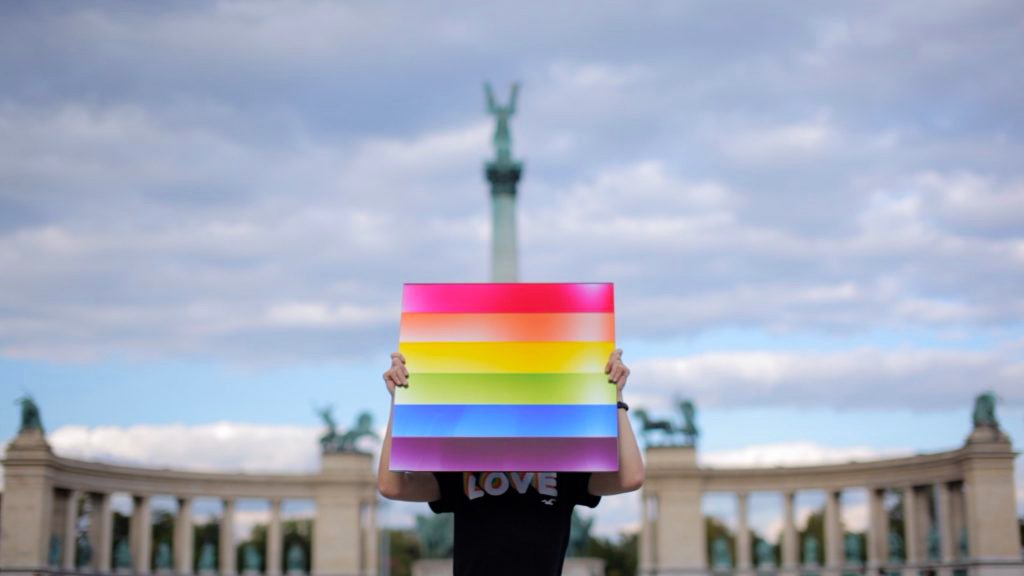 When looking at the monuments he chose for his performance, we can see their purpose was to honor important figures. The Washington Monument, an obelisk that shapes the skyline of D.C., was built in honor of the first president, George Washington. The Millennium Monument, however, has two colonnades flanking a central column with the representation of the archangel Gabriel at its top. At the base of this column are sculptures of the seven Magyar chieftains, the leaders of the Hungarians when they arrived in the Carpathian Basin (present-day Hungary). Other allegorical figures adorn the monument, such as Labor, Wealth, War, and Peace, as well as those of various kings of Hungary.
It is clear that these monuments represent the foundational history of not only each city but also each respective nation. By interacting with these monuments in the way that he did, and by titling his performance Colour Therapy, Ábel makes us consider how art can offer healing. Perhaps Ábel wants us to reconcile with those who remain left out of historical narratives, indicated by his use of the rainbow flag. Or maybe he asks us to consider how certain figures are glorified, which overlooks the violence that accompanied the founding of these nations (enslaved Africans built the Washington Monument in its early phases). The use of color is telling us that, unlike what these monuments try to portray, history is more than black and white. To grow from a nation's past, we cannot ignore the shades in between.
Conclusion
Whether they identify as activists or not, Kaphar, Stolle, and Ábel use their work to promote social change. To varying degrees, they all share a deep concern with history. Both Kaphar and Ábel have an investment in the shaping of historical narratives and showing how uncovering the stories of those marginalized changes our perceptions of the past. Meanwhile, Stolle also invests in history but in ways that demonstrate the effect of past actions and their repercussions today.
As contemporary art continues to evolve, we can also see how the art world has loosened its idea of what an artist can or should be. The goal is no longer just to achieve beauty—each of these artists proves that art can offer more to society and that we should reconsider the definition of the word "activist."