Gilded Age Decadence: The Excesses of the Spoiled Elite
Discover the outrageous opulence of the Gilded Age's wealthiest people.
In the late 1800s the makers of vast fortunes from railroads, steel, mining, oil and banking engaged in outrageous displays of wealth that helped give the era its nickname: The Gilded Age. The wild spending, and attempts to out-spend any rivals, became legendary. Here are some verified examples of Gilded Age decadence.
The Extravagant Ball Hosted For Revenge
In New York in the late 1800s you established society credentials by being invited to a ball hosted by a socially prominent family. Alva Vanderbilt, extremely wealthy wife of the grandson of Cornelius "The Commodore" Vanderbilt, felt terribly snubbed by not being invited to a ball at the Astors. So she hosted a ball intended to make all others forgettable.
The absurdly lavish Vanderbilt Ball, held on March 26, 1883, was an instant legend. The next day's New York Tribune covered it extensively, describing in great detail the elegant decor and the extravagant costumes worn by guests. The hostess dressed as a Venetian princess. Her Venetian cap was "covered with magnificent jewels," including a "superb peacock in many colored gems."
That night's party would cost about $7 million in today's dollars. Incidentally, the rift between the Vanderbilts and the Astors was repaired and the Vanderbilts were later invited to the Astor balls.
The Elegant French Chateau on Fifth Avenue
The ostensible reason for Alva Vanderbilt's 1883 Grand Ball was as a housewarming party for the family's new mansion, Le Petit Château. Located at the northwest corner of Fifth Avenue and 52nd Street, the mansion was said to have been modeled on a chateau William Vanderbilt had admired in France. Yet the Vanderbilt house was not a mere gaudy copy.
Noted architect William Morris Hunt had been commissioned to design it, and it inspired later buildings in New York. In March 1882 the New York Times published a gushing account of the new mansion that described the woodwork and marble of various rooms and also detailed the paintings in its extensive art galleries. The newspaper declared the house "the most superb in America."
The chateau along Fifth Avenue was torn down in 1926, and newspaper reports noted that many events hosted in the mansion had "cast their glitter over society."
What Completes a Floating Mansion? A Mechanical Orchestra
Notorious Wall Street investor Jay Gould, the archetypal Robber Baron, died at 56 and left a vast fortune to his six children. The Goulds' spending sprees comprised Manhattan mansions, sprawling country estates, and the latest fashionable status symbols. One casual trendy purchase: George Gould, the eldest son, bought a champion English bulldog for $5,000, the equivalent of $100,000 today.
A preferred status symbol was a yacht. George inherited his father's steam yacht, the Atalanta. It was 228 feet of luxury, and when George became tired of it he sold Atalanta to the nation of Venezuela to use as a warship.
His brother Howard Gould outdid him by building his own 282-foot steam yacht, the Niagara. A floating mansion, it featured a card room, an elegant library, a dining room with Renaissance furnishings, and comfortable accommodations for guests and the yacht's crew of 78. For nightly entertainment, an orchestrion – a supercharged player piano that replicated an entire band – supplied dance tunes.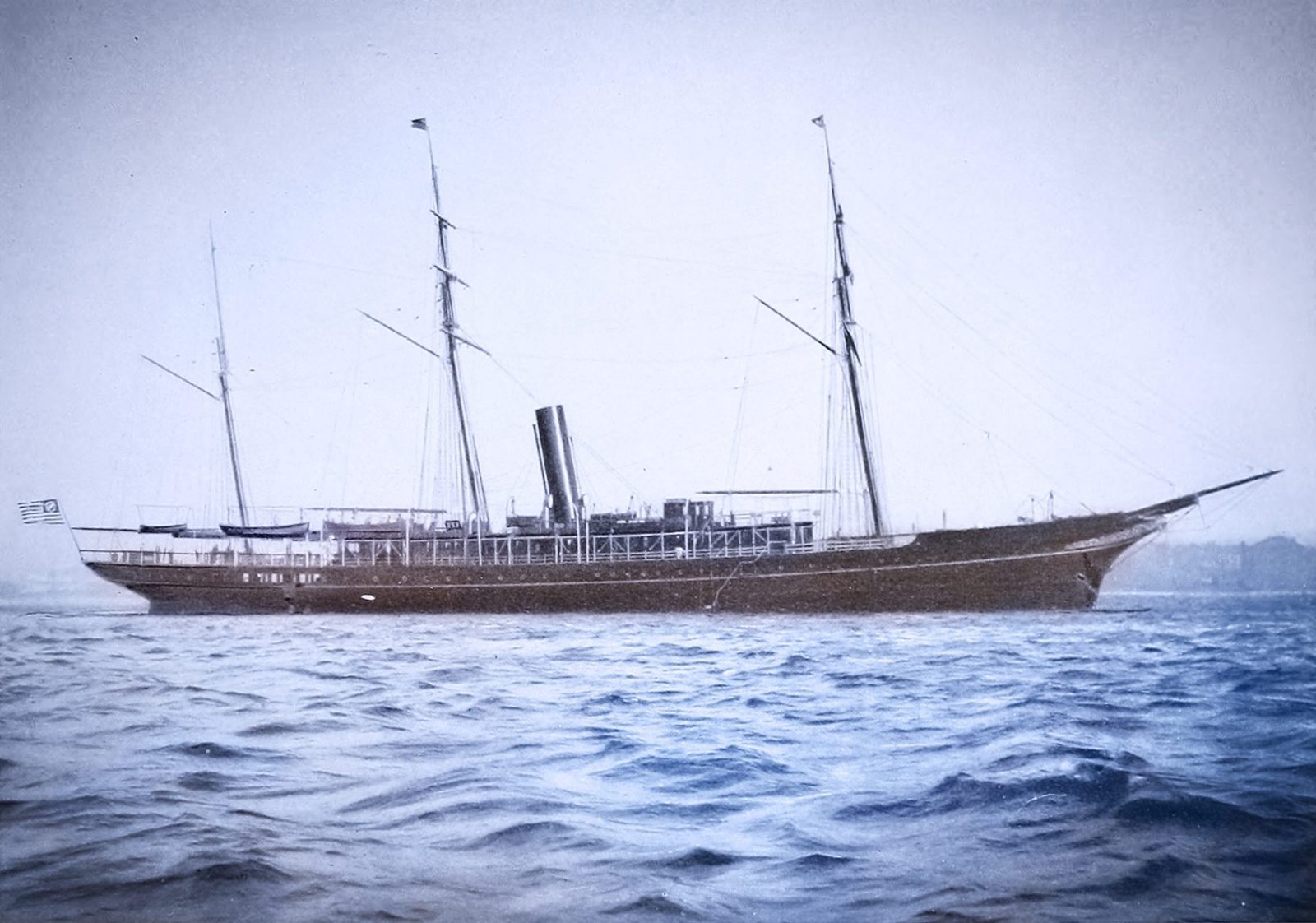 Diamond Jim Brady Ate Himself Into a New Stomach
A classic character of Gilded Age New York was James Buchanan Brady, known as "Diamond Jim" for wearing his wealth in the form of rings and stickpins. The vice president of a steel company, Brady was famous for attending the first night of every Broadway show.
Diamond Jim was a legendary eater. An otherwise positive obituary published in the New York Sun in 1917 noted that he ate "quantities of food so appalling that nearby diners, fascinated, let their own meals grow cold as they watched him demolish the dozens of raw clams or oysters" placed in front of him.
In 1912 his eating exploits put him in Johns Hopkins Hospital for surgery, which he claimed was to install a new stomach. Some newspapers said eating many thousands of lobsters had nearly been the end of him. He thanked the doctors by donating a quarter-million dollars to the hospital, which still has a urological institute named for him.
View the Country From a Rolling Mansion
Before George Pullman built passenger cars, travel by train might mean bouncing along for hours on plain wooden benches. Pullman provided comfort such as upholstered seats and comfortable sleeping berths. And when he began building custom private cars for the very wealthy, one of the most coveted status symbols became a rolling mansion.
Private cars could attach to any train and travel the nation, insulated from the public. Containing any luxury that could be squeezed in, cars featured gold-plated bath fixtures, ornate woodwork, and silk upholstery. Most had a kitchen, and some boasted a chef imported from Paris. Jay Gould, suffering from ulcers, preferred milk from his own cow, which rode in her own adjacent car.
The era of private rail cars faded out by the mid-20th century, but some modern ones still exist. If you want to roll like a Gilded Age plutocrat, they can be attached today to Amtrak trains.
Angry at the American Press? Buy Respectability In England
William Waldorf Astor, one of the leading members of New York's incredibly wealthy Astor family, tried to venture into politics and was elected to two terms in the New York state house in Albany. He tried to run for Congress but was defeated twice in the early 1880s. Astor felt he had been unfairly mocked by the press.
President Chester Arthur appointed Astor as ambassador to Italy, which distracted him for a time. A few years in Rome, indulging in art and culture, convinced him to turn his back on America. He moved to England in 1890 and went on a spending spree, buying a huge estate, Cliveden, along with Hever Castle, childhood home of Anne Boleyn.
He eventually spent his way into obtaining a British title. He never became a Congressman in his homeland, yet when he died in 1919 he was known as Viscount Astor.
J.P. Morgan's Art Collection
Banker J. P. Morgan decided to spend many of his millions collecting art, and he had a definite strategy. He planned to buy up works of art that were historically significant, and then bequeath it all to museums as a lasting legacy. Beginning in 1890, he bought. And bought. And bought some more.
When he died nearly a quarter-century later, his astonishing collection was valued at roughly $60 million. During annual trips to Europe Morgan received visits from art dealers, and when he decided to buy he didn't waste time bargaining.
He snapped up manuscripts by Sir Isaac Newton, Charles Dickens, Henry David Thoreau, and Thomas Jefferson. He gathered three Rembrandts, two Rubenses, four Gainsboroughs, a Goya and a Velasquez. The paintings found their way to museums, while his stunning book and manuscript collection is held by the Morgan Library, on the site of his mansion in New York City.
One Designer Set the Tone
For women in the Gilded Age, the height of fashion was to wear gowns designed by Charles Frederick Worth. A British-born fashion designer working in Paris, he has been credited with creating haute couture.
Alva Vanderbilt's gown at her legendary 1883 ball was designed by Worth. Other clients included members of New York's wealthiest families. When Worth died in 1895 the New York Tribune noted that at a New York society ball of 300 people, 80 women wore gowns "Worth had designed and made for the occasion."
His firm, known as the House of Worth, outlived him. When Alva Vanderbilt bullied her daughter Consuelo into an unhappy marriage to the Duke of Marlborough, the bride wore a Worth gown.
Of course, his fashions were exceedingly expensive. His obituary in the New York Times ended by noting that "bankers and emperors… thought with anguish of how they were to pay Worth's bills."
A European Chateau In the Carolina Mountains
George Washington Vanderbilt visited the mountains of North Carolina in the 1880s and fell in love with the scenery. While his relatives built mansions in New York and estates in Rhode Island, George decided to build a European style chalet in the Blue Ridge Mountains.
Architect Richard Morris Hunt, who had designed the stunning Fifth Avenue mansion for George's brother William, was told to spare no expense. As work proceeded, George Vanderbilt made trips to Europe to buy up fixtures and furnishings. It was estimated that George spent $5 million to furnish the $3 million mansion.
The house was opened in 1895 with a lavish party. Yet its owner preferred spending time at a remote hunting lodge. In 1914 George Vanderbilt died unexpectedly at the age of 51, leaving the Biltmore Estate to his widow and children. The largest privately owned house in America, it is open to public tours.
Conclusion
In the Gilded Age vast fortunes were accumulated, and it's sometimes hard to believe the wild displays of the ultra wealthy entertained, dressed, ate, and traveled. Yet some of the most fanciful tales of extreme spending turn out to be entirely true.