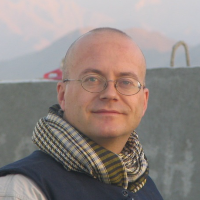 Tim Foxley
Tim Foxley is a British and Swedish citizen, living in southern Sweden.
He is a freelance political and military analyst, with a Master's degree in Peace and Conflict Studies (dissertation on the conflict in Afghanistan) and Bachelor's degree in history and politics (dissertation on trench warfare on the Western Front during the First World War).
He worked for the British government for over twenty five years in security, political, analytical and international relations fields, studying Afghanistan, the Balkans, Russia and Eastern European.
He undertook operational tours to Bosnia and Afghanistan as an intelligence analyst and received the MBE in 2005.
He has spoken at the UN, NATO and RUSI and has been interviewed on the BBC and other TV and radio channels.
He has a wide-ranging interest in military history and has written extensively on a variety of conflict themes, particularly focused on conflicts of the 20th century.
He is a very keen punk rock guitarist and a much less keen marathon runner.
Education
Master's in Peace and Conflict Studies
Bachelor's in History and Politics
On the eve of the Normandy landings, the Allies executed a brilliant deception, the most successful in history.